Massachusetts Road Map
---
The scalable Massachusetts map on this page shows the state's major roads and highways as well as its counties and cities, including Boston, Massachusetts' state capital and most populous city.
Road Through Snow-Covered Trees in Massachusetts
Massachusetts Map Navigation
To display the map in full-screen mode, click or touch the full screen button. To zoom in on the Massachusetts state road map, click or touch the plus (+) button; to zoom out, click or touch the minus (-) button. To scroll or pan the zoomed-in map, either (1) use the scroll bars or (2) simply swipe or drag the map in any direction. (The scrolling or panning method you use will depend on your device and browser capabilities.) At any time, you can display the entire Massachusetts road map in a new window or print this page, including the visible portion of the map.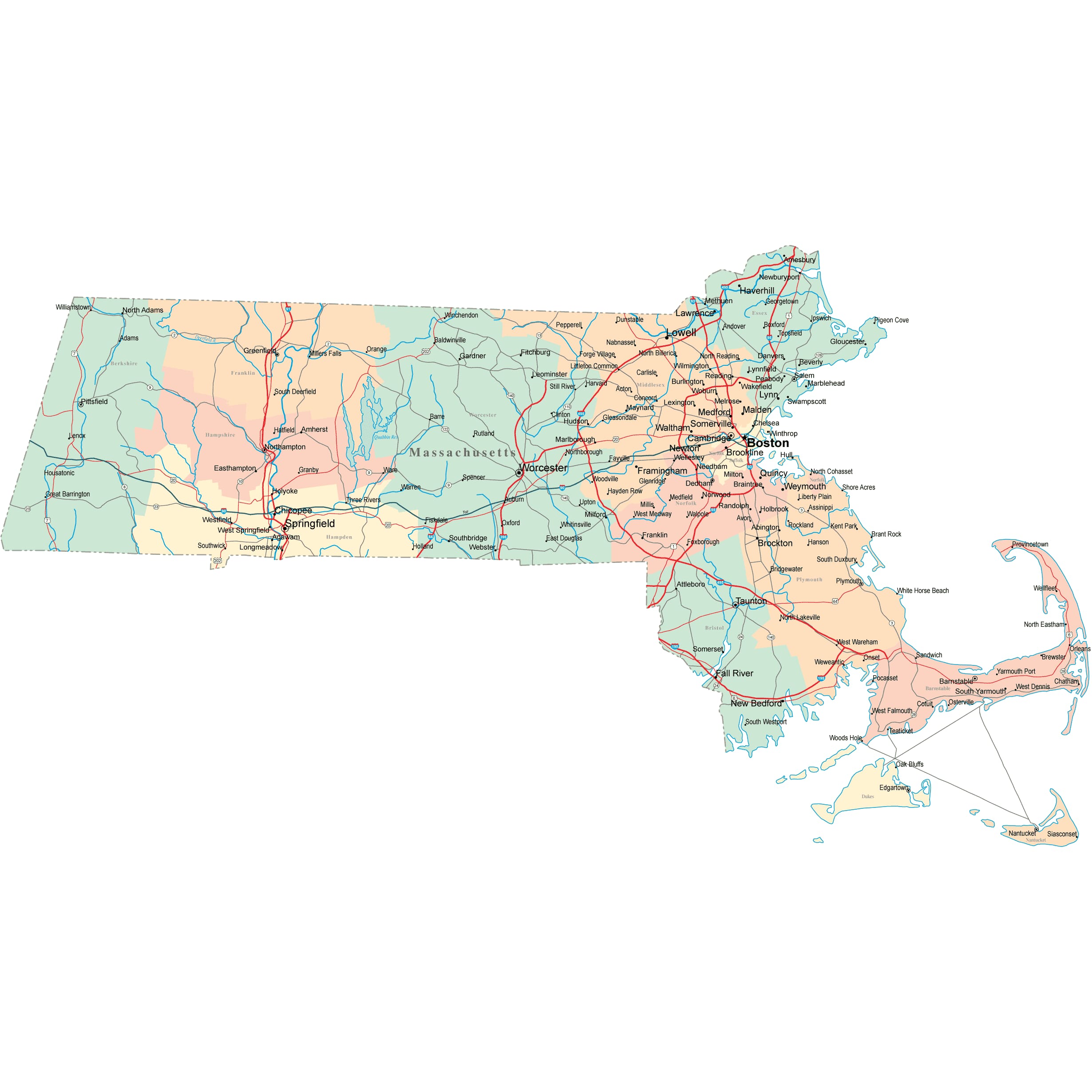 The following Map Legend and Scale of Miles apply to the road map on this page, at its largest displayed scale.
Massachusetts Map Legend
Massachusetts Map Scale Of Miles
Massachusetts Interstate Highways
Massachusetts' primary Interstate Highways connect its major cities and facilitate travel between Massachusetts and its neighboring states. I-90 traverses the state from east to west, I-91 crosses the state from north to south along the Connecticut River, and I-93 connects Boston with southern New Hampshire. I-95 traverses eastern Massachusetts from north to south.
Massachusetts' auxiliary Interstate Highways serve its metropolitan areas and complement the Commonwealth's primary Interstate Highways. I-190 links Fitchburg and Leominster with Worcester, where it connects to I-290. I-291 connects I-90 and I-91 and provides easy access to Springfield, while I-391 serves Springfield's northern suburbs. I-195 arcs through the coastal cities of Fall River and New Bedford, between Providence, Rhode Island and its eastern terminus near Wareham. I-290 links Worcester with I-495 and I-90; I-395 continues southward into Connecticut from its northern terminus at I-90. I-495 forms a wide arc around the Boston area.
Massachusetts Scenic Routes
The picturesque and sandy shores of Cape Cod can be enjoyed via an 80-mile road trip from Sagamore to Provincetown along Route 6. The historic town of Sandwich is Cape Cod's oldest settlement and has all the charm of a 17th century village. Further along, the eight-mile Sandy Neck Beach protects Barnstable Harbor and borders on a 4,000-acre wildlife marsh. Travelers will encounter the quaint New England towns of Yarmouth Port, Brewster, and Chatham, as well as several lighthouses and the Wellfleet Bay Wildlife Sanctuary. The Cape Cod region is accessible via the Pilgrims Highway (Massachusetts Route 3) and the Sagamore Bridge or the Blue Star Memorial Highway (Massachusetts Route 25) and the Bourne Bridge. More information about scenic roads in Massachusetts is available on this America's Byways: Massachusetts web page.
Massachusetts Road Travel Resources
For more information about Massachusetts' roads and transportation infrastructure, visit the Massachusetts Department of Transportation website. For Massachusetts road traffic conditions, visit the Federal Highway Administration's Massachusetts Traffic Information page.
---
Copyright © 2005-2023 State-Maps.org. All rights reserved.
Massachusetts-Map.org is a State Maps reference source.

Massachusetts Road Map
Massachusetts Travel Map - MA Highway Map